CITIZENS COMMISSION ON HUMAN RIGHTS FREE INFORMATION KIT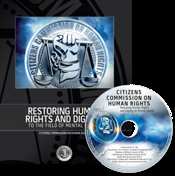 This free information kit provides the tools to protect the most vulnerable from psychiatric abuse and restore human rights to the field of mental health. Containing precise steps to effectively deal with psychiatric abuse, this kit provides hard hitting facts and recommendations to end psychiatry's damaging practices and help save lives. This kit also includes:
An introduction to the Citizens Commission on Human Rights (CCHR), which has been exposing abuses and bringing reforms to the field of mental health for more than 40 years
Excerpts from award-winning CCHR documentaries:

Psychiatry: An Industry of Death
Making a Killing: The Untold Story of Psychotropic Drugging
The Marketing of Madness: Are We All Insane?
Dead Wrong: How Psychiatry Can Kill Your Child

Complete short documentary: Psychiatry's Prescription for Violence
Effective actions you can take to safeguard individuals from psychiatric exploitation and abuse.
Please fill out the form to the right to receive your free information kit.